"Et tu BRUTUS?" -- THE IDES OF MARCH in the year 44BC - "Woe unto CAESAR."
If you will indulge me in a bit of reminiscence... Fast forward to
THE IDES OF MARCH 1990 -
a PARKING LOT at the CAPITAL CENTRE in LANDOVER, MD.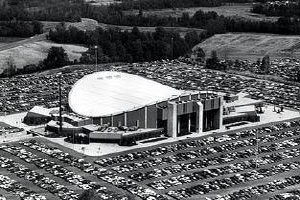 Capital Centre LANDOVER Maryland
TWENTY TWO years ago today my buddy EK and I, (along with his girlfriend at the time, Phyllis, who later became Mrs. EK which eventually led to a BROOD of children...) set up proverbial 'shop' in the parking lot of the old Cap Arena. That 'setup' became what I call my FIRST OFFICIAL FORAY INTO THE WORLD OF PROFESSIONAL SMOKE!!
"Huh??" You may be muttering. Well, let me clarify. On that day EK and I decided to set up our 'grill' and BEGIN TO DISSEMINATE OUR EPICUREAN ENDEAVORS!!
In other words, WE SOLD GRILLED CHEESE.
NOT exactly food worthy of a bid to THE ROYAL.
THE UNIT THAT STARTED IT ALL!!
2 BURNERS and a DREAM!
(pardon the profanity... and, YES, the 'meat' sticker is a joke!!!)
However, as significant life milestones, put this in the memoir! The idea of firing up the grill in a random parking lot, knowing that our food was being appreciated by many and envied by others seduced me into a LIFE OF SMOKE!!
I'd say WE'VE COME A LONG WAY!!
Since those life-changing grilled cheese (YES, food CAN be life-changing!) I have traversed across this great country preparing culinary delights in fields and lots at countless events and venues!!
From the '
ghetto grill'
purchased at the local convenience store that fits one burger to the
BACKWOODS PARTY
to the rented
Propane Grill w/hood
I have used them all. However, I must say
it's not the size of the 'grill' but the FUN BETWEEN THE BUNS
...sorry, that was poor wordplay.
Again, the Gran Pappy believes you must cherish every moment with family and friends. Now that the weather is WARMING you need to GET OUT YOUR CALENDAR. Speak with your significant other/self and say, "WHERE am I going? With WHOM and WHEN?" It's too easy to make excuses.
You don't have to travel far. A simple 'tailgate party' at the local park with family. Meeting a few friends for a 'mini tailgate' before or after a youth lacrosse or baseball game.
Eventually, YOU WILL want to throw a BIG OL' TAILGATE PARTY!! Don't fret, the GRAN PAPPY will be here to provide you with EXPERIENCED 'How-To' advice. Shoot, who knows, MAYBE I'LL EVEN JOIN YOU!!
COMING TO A PARKING LOT NEAR YOU!!
Yours in Smoke~~
Gran Pappy of Pork
www.tellyouwhatbbq.com